UnDUNE II
They who controls the spice... controls the universe.
OVERVIEW
UnDUNE II is a demake of the classic (and original) RTS game DUNE II, re-created from scratch in PICO-8.
A strategy-based resource management simulation, where three houses fight for control of the planet Dune - the land of sand and home of the spice.
This project started as a fun idea, that I expected to get done within a month or two. Well... almost 3 years later (working on & off, in my free time) - I'm happy to say that it is finally finished! 😅
FEATURES
👥 All 3 Factions (+Sardaukar)
👨‍🏫 All 3 Mentats (+Bene Gesserit)
️🗺️ All 9 Mission Levels (inc. anim map w/ intros)
🔊 Music + SFX remade for PICO-8 (by Gruber)
🏭 All 19 Building Types
🚛 All 21 Unit Types
🏯 All Palace Weapons
🏨 Capture Buildings (inc. Harvesters)
🐛 Sandworms
️⛰️ Multiple Terrain Types
️️⛏️ Spice Blooms
🌁 Fog of War
📡 Low/High-res Radar
🤖 Multiple AI Opponents
💾 Auto-saving after each Level
📊 Level End Stats (w/ Rankings)
💾 ️Spanning 12 PICO-8 Carts
️🖱️ Mouse/KB/Gamepad/Mobile-Friendly
⏳ HOURS of gameplay!
CONTROLS
Mouse (Recommended)
LMB: Select Unit/Building, Choose destination/target
RMB: Deselect/Cancel
Gamepad/Keyboard

GAMEPLAY
If you've never played the original (or an old-school RTS) before, the basic principle of UnDUNE II is as follows.
Build up your base by ...building! (just remember to put down concrete slab foundations before placing your buildings, to avoid damage).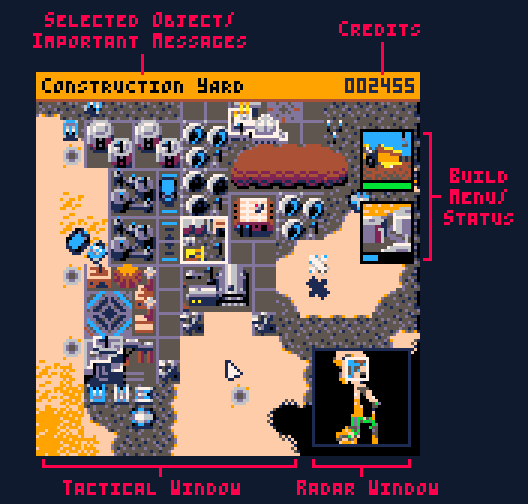 Wind Traps generate electricity to power your buildings. Refinery's take raw Spice (mined by Harvesters), which are converted into credits, to allow you to build more! Take your units and explore your new terrain.
But watch out, as you are not alone. There are two other foreign factions that will fight you for control of Dune. Not to mention the native lifeforms - such as Sandworms, which can swallow units whole!
Units can be instructed to attack enemy units and may automatically retreat when outnumbered. Harvesters will automatically try to find the closest spice, but can also be told where to mine - they'll also automatically return to base for unloading when full.
Grow your base, expand your building options as you go (more will unlock at later levels). Preserve your Construction Yard at all costs - you can't build another one!*
*(unless you have an MCV...)
Good luck! 😀🎖️
...feel free to share any cool pics/vids using #UnDUNE2 hashtag
(On Windows download: Use F1 to save screenshot or F3/F4 to record GIF)
TIPS
Improve radar quality by building a Radar Outpost
(ensure sufficient power levels are maintained to keep operational)
Certain buildings require other buildings to be built before they will be available.
Other buildings and units will unlock at the later levels.
If you need credits fast, you can send a Harvester back to Refinery early.

Some units are only available to certain factions - such as Harkonnen Devastator, Ordos Deviator, Atreides Sonic Tank.
Build a Repair Centre and units will try to go directly to them get fixed without you having to tell them.
Build base foundations quickly by placing 4x4 Concrete Slabs (when unlocked)
Build a Carryall as soon as you can (via Hi-Tech Factory) - as they will pick-up/drop-off units (such as Harvesters and retreating units) MUCH faster.
Trikes are fast and inexpensive - use them to scout enemy bases
(just make sure you're prepared for a fight once they know where you are!)
Sandworms cannot "eat" units if they are on land.
Spice Blooms (mounds) can be shot to release payloads of spice.
Build an MVC and send it into corner of map + you now have a "backup" Construction Yard, should your only one be destroyed.
Target enemy Spice Refinery first, to stop them from earning credits
- then go for their Repair Facility and then Unit Factories.
CREDITS & THANKS
👨‍💻 Code, PixelArt:
- Paul Nicholas - (@Liquidream) - www.liquidream.co.uk
🎶 Music & SFX:
- Chris Donnelly - (@Gruber_Music) - www.grubermusic.com
Additionally:
Acknowledgements:
Current Supporter Thanks:
ThatTomHall, Vitorio Miliano, Andrew Dicker, Kurt Klemm, Qristy Overton, Tobias V. Langhoff, Hyperlink Your Heart, zep, Gruber, Mooncat, David Meslin, Hodge, Nicholas Stewart.
Past Supporter Thanks:
bbsamurai, Daljit Chandi, Roy Fielding, Graham Wenz, Franz Tormer, Damien Cirade, Llewelyn 'NylePudding' Griffiths, Marco Lizza, Christopher Castillo, Morten Schouenborg, Oliver Hunt, Mike Poole, Terraflubb, Cody Dill, Michael Leonardi, Wilman, Michael Sullivan, Osky HeRo, Mando, uena, StripesbyNW, Morgan Brown, Bryan Lefebvre.
No Current Plans/Room to Implement:
Bullets don't stop at buildings/walls
Infantry/Trooper ability to traverse rocky terrain

Diff. maps for factions
Frigates do not deliver Harvesters or Starport orders
Devastator cannot self-destruct

AI doesn't rebuild destroyed structures
RELEASE HISTORY
v1.4.1

FIX: Display issue caused by P8SCII changes in newer P8 builds

v1.4

ADD: End Credits screen (also accessible from main pause menu)
ADD: Auto-return repaired units to battlefield

ADD: Made it easier to start a new game/switch house
(also via Title cart's "pause" menu)
ADD: Starport now has fluctuating pricing to order from
ADD: Prioritised AI attack for buildings + periodic attacks until "discovered"
ADD: Hitpoints, Power and Arm stats added to build menus
ADD: AI will now retaliate against attack!
ADD: Atreides can now control Fremen (after initial target order)
ADD: Made it easier to start a new game/switch house
(via Title cart's "pause" menu)
CHG: Better FOW reveal shape (was square before)
CHG: Launcher tanks now have minimum firing range
CHG: Unit order feedback
(now deselects when tell to move - consistent with attack)
CHG: Unit cap now set for each faction, rather than total count
(+now applies to soldiers created on building destruction)
CHG: Build menu now matches ordering of original game
CHG: Increased pathfinding memory (fix broken pathfinding on LVL 9)
CHG: Improved sprite gfx (turrets, storage silos)
CHG: Credit sfx interval reduced (+build/repair speed tweaked)
CHG: Sonic tank + Trooper fire/missile size
CHG: Repair rate reduced slightly (was too fast)
CHG: HQ Radar now shows FOW now more accurately
CHG: Enemy unit/turret fire FOW reveal reduced (was too large)
FIX: Diff. faction level req. for some buildings (Light Factory, WOR, etc.)
FIX: Slabs placed under units are now lost
FIX: Abort attack when unit is collected by carryall
FIX: Build Placement now ignores flying units

FIX: Tech tree requirements
FIX: Broken turrets mid-level
FIX: Ordos now start with Deviators not Launchers on later missions
FIX: Click close menu sometimes triggered radar move
FIX: Crash if click build with no build menu items
FIX: Worms can no longer "eat" flying units
FIX: Now only infantry soldiers are created when buildings destroyed
(not troopers) + reduced count
FIX: Infantry/Troopers reduce too quickly from 3 down to 1
FIX: Harvester info now resets to 0% after unloading
FIX: AI able to build units on levels earlier than should be
FIX: "never the less" Typo on Harkonnen Mentat screen (bug in original)
FIX: Units sometimes spawning with 50% health
FIX: Sardaukar have heavy troopers, not infantry (on LVL 4)

v1.3

ADD: Capturing enemy buildings! (inc. Harvester, if unloading at the time)
NOTE: not all buildings *can* be captured, as in the original

ADD: Units now auto-return to guard position if too far away
(less cat-herding! 😸)
ADD: Build "Paused" indicator (Thx Tim)
ADD: Flashing infantry/building when targeting
(Thx Krystian, Petr & FullThrough)
ADD: Sending units by clicking on Radar with left-click
(right-click for old way!)
ADD: Soldiers appear after building destruction
ADD: Units now auto-attack nearby enemy buildings (Thx Tim + Krystian)
ADD: Building size indicator (e.g. 2x2, 3x2, 3x3, etc.)
ADD: Faction prefixes for units (e.g. Ordos Raider Trike)
ADD: Sardaukar to LVL4 (Thx Tim)
CHG: Now allows selection of partially-revealed buildings
CHG: Death Hand now has a smoke trail
CHG: Sandworm stays around now (rather than periodically appearing)
CHG: Improved some sprites gfx (Turret bases, Carryall, Devastator, etc.)
CHG: Unit speeds have been reviewed to be closer to original game
FIX: Pathfinding performance increase (due to mem leak)
FIX: BIG render performance increase (now using TLINE + diff. shadows)
FIX: Rocket Turrets can now shoot down Ornithopters! (I know, I know...)
FIX: LVL1 End state where credits target reached but nothing happens

FIX: If has Carryall, but no Repair Facility
(it was dropping units ON buildings nearby!)
FIX: Flying units no longer affect ground-level pathfinding
FIX: Walls no longer smoke
FIX: Running over infantry was hit+miss - seems better now
FIX: Starport typo (Thx Krystian)
FIX: Placement indicator z-order (Thx Tim)
FIX: Harkonnen have no barracks (Thx Raphael)
FIX: Harkonnen light factory can't build trikes (Thx Raphael)
FIX: Ordos have the raider, no trikes (Thx Raphael)
FIX: No faction can order Ornithopthers from the Starport (Thx Raphael)
FIX: Harkonnen have no barracks (Thx Raphael)
FIX: WOR/Trooper not available to Atreides (Thx Raphael)
FIX: Disappearing retreating units that reappear repaired
(Thx Tim + Krystian's videos)
FIX: Sandworm "eat" anim now visible when on spice dunes

v1.2

ADD: Build limits on Units & Buildings (based on total count each type) to help performance & strategy
CHG: Increased repair costs - was almost free (Thx Tim)
CHG: Lowered credit SFX vol (Thx Tim)
CHG: Performance optimisations
FIX: Crash when unable to auto-deploy unit near building (Thx Quang)
FIX: "Harkonnen" typos in mission info (Thx Tim!)
FIX: Siege/Rocket Tank details info swapped (Thx Tim + Maxwel)
FIX: IX level requirement > Lvl 7 (Thx Tim)
FIX: Heavy Vehicle Factory > req. Light Vehicle Factory (Thx Tim)
FIX: Map edge bounds for units (Thx Tim)
FIX: Buildings not updating/destroying (Thx Krystian + Quang)
FIX: Pathfinding tweaks - hopefully better when under load (Thx spoike).

v1.1

FIX: Atreides unable to build Troopers (thx all for reporting!)


v1.0
| | |
| --- | --- |
| Status | Released |
| Platforms | Windows, macOS, Linux, HTML5 |
| Rating | |
| Author | Paul Nicholas (Liquidream) |
| Genre | Strategy |
| Made with | PICO-8 |
| Tags | 8-Bit, Demake, dune2, PICO-8, Pixel Art, Real time strategy, Retro |
| Average session | About a half-hour |
| Languages | English |
| Inputs | Keyboard, Mouse, Gamepad (any), Touchscreen |
Download
Click download now to get access to the following files:
undune2-standalone-p8.zip
138 kB